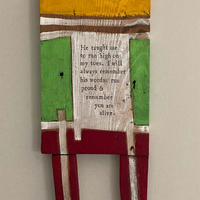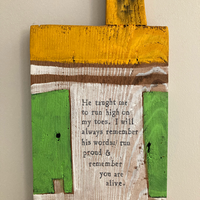 classic sculptures: run proud
This is the other artist proof from my mother's collection. It's a story of my father who coached my sister & me in cross-country & middle-distance track. It uses the redwood fence from outside my studio in Berkeley where it all began.

This is what I'd call a constructed piece: it's made from interesting shapes of redwood I'd find on my studio floor after cutting other pieces. They're then glued & doweled into the piece you see here.
It's stamped with one of the first of the classic stories : 'run proud'.
He taught me to run high on my toes. I will always remember his words: run proud & remember you are alive.
description
dimensions: 10" W (not incl. wire hair) x 40" H 
one of the first sculptures I did, before I started the StoryPeople studios
hand-drawn charcoal face with hand-stamped story

signed, dated 1993 & noted as A/P (Artist Proof) in graphite on side
UPS home delivery shipping included to any address within the United States (sorry, we cannot ship to PO Boxes)
artist
created & signed by Kai (Brian Andreas) in 1993