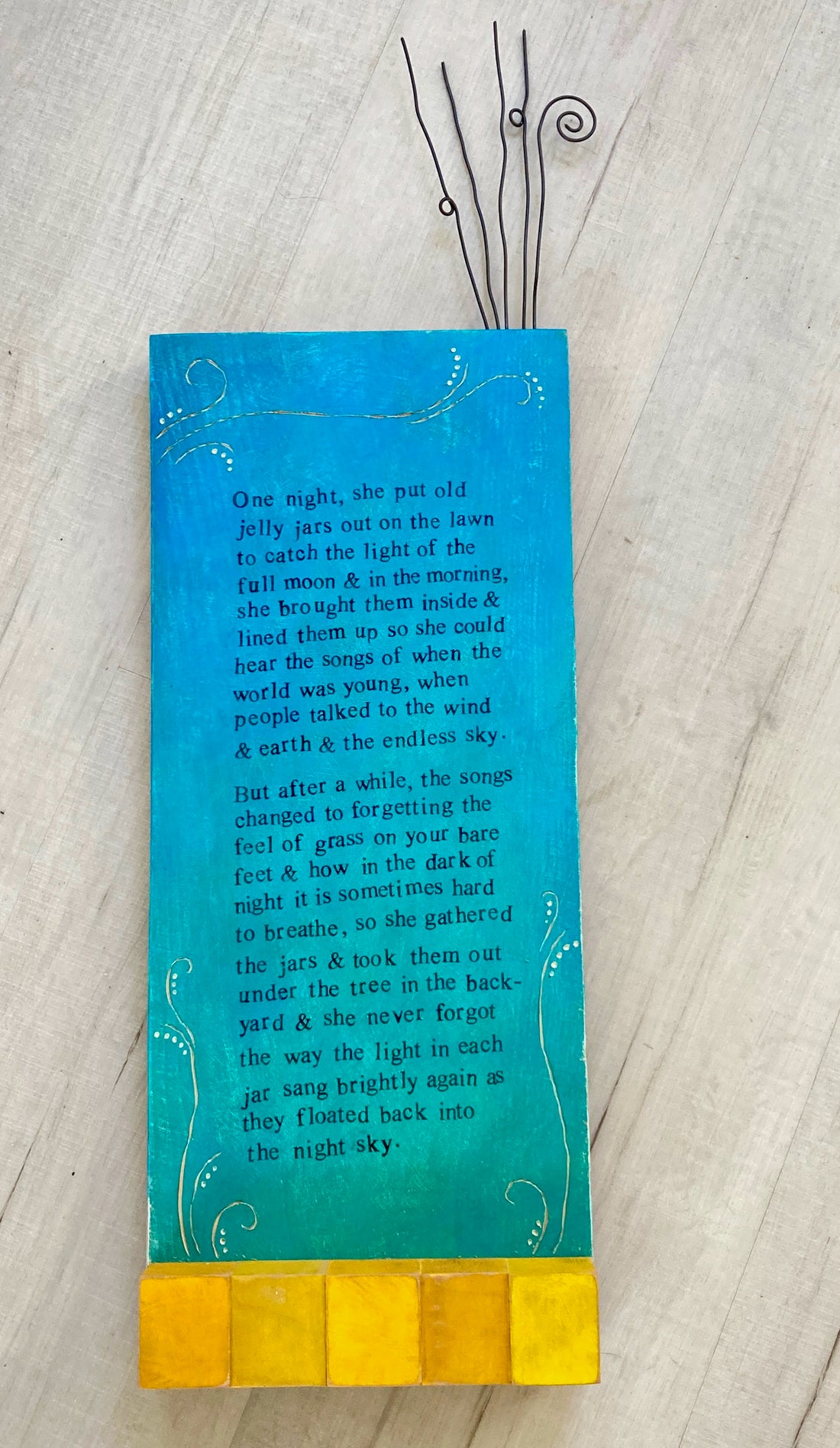 story keeper: moonlight in jars
One night, she put old jelly jars out on the lawn to catch the light of the full moon & in the morning she brought them inside & lined them up so she could hear the songs of when the world was young, when people talked to the wind & earth & the endless sky. But after a while, the songs changed to forgetting the feel of grass on your bare feet & how in the dark of night it's sometimes hard to breathe, so she gathered the jars & took them out under the tree in the backyard & she never forgot how the light in each jar sang brightly again as they floated back into the night sky. 

 each storyboard ordered plants one tree
description
designed to stand alone or hang
on corral board from Montana, with pieces of reclaimed cherry from here on the Cape: 7  9/16" W  x  18 1/8" H  (not including wire) x  2: 1/16" D at it's widest point
cut, sanded, & painted here in the studio with our unique bird & brush process - & Kai created the woodcut pattern freehand
story stamped by hand
our flying edna studio wood brand on the back of the sculpture + Kai's signature, so you know you're getting a piece directly from the artist
UPS home delivery shipping included to any address within the United States (sorry, we cannot ship to PO Boxes)
how we make these...
We have the deep joy of working with incredibly beautiful repurposed wood, sometimes from trees that are hundreds of years old... This means every piece is unique & carries along its own history. We purposely do not fill in the bug holes or hide the knots & scarring, which is why each piece is perfectly imperfect & unique.
The wood species will vary according to what we can source from local small businesses dedicated to repurposing razed buildings, trees that are diseased, or taken down due to storms.
These pieces come with a small card telling a bit about us & the piece, & is either wrapped or comes in an organic cotton bag.
All our reclaimed wood products are shaped, sanded & waxed here in our studio. Woodcuts are done freehand.
Unless stated otherwise, our painted pieces are our unique bird & brush process: 4-6 layers of paint, graphite & ink (including a secret hand written wish).