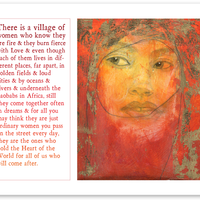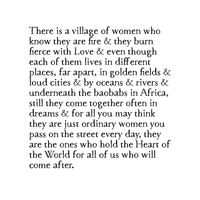 village of women art print
Village of Women speaks of the interconnection of women everywhere who're  holding & building this new world. It's a beautiful reminder of how the work just needs to be done & it's being done by ordinary people stepping up. 
There is a village of women who know they are fire & they burn fierce with Love & even though each of them lives in different places, far apart, in golden fields & loud cities & by oceans & rivers & underneath the baobabs in Africa, still they come together often in dreams & for all you may think they are just ordinary women you pass on the street every day, they are the ones who hold the Heart of the World for all of us who will come after.
art & story by Kai
more about this art print...
Because Flying Edna is the artistic home of the artist, Brian Andreas - who now goes by Kai - he's able to proof & sign each of these with his new signature.
Our art prints are reproductions of Kai's original drawings & watercolors from his notebooks. Kai's bio
This piece is printed on 315 gsm European etching paper, an archival, museum-grade paper. Which means 100% cotton fiber, acid-free, lignin-free, and optical brightener (OBA) free.
It includes a pH neutral backing board made from 100% recycled material & comes protected in a plant-based compostable bag to keep it safe in shipping
Compatible with 8x10 & 11x14 frames.